TONO EVENT
Tono machiya's Hina Festival
遠野町家のひなまつり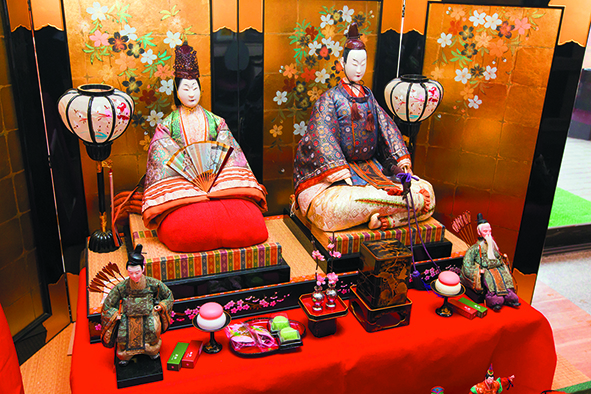 Hina dolls have been handed down from generation to generation in the castle town of Tono.
Hina dolls are dolls that adorn the peach festival in March, wishing the happiness of the girl born in the house. In the past, in Tono, there was a custom where people went around their neighbors to look at each others hina dolls. This custom revived in the modern times, is this event.
Walk around town with the distributed map in hand and look at the hina dolls in homes. During the event, food such as the Hina festival lunch, Hina dumplings and other goods related to the Hina festival will also appear.
<Hina doll you can visit (example)>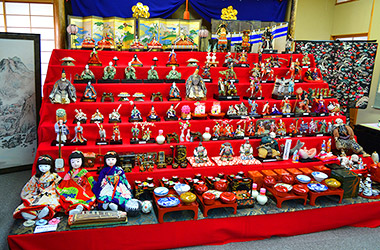 Hina dolls of the Usui Family
Please look at the three hanging scrolls.
It is a memorial picture drawn by a warrior called Shikou Toyama at the end of the Tokugawa period. He participated in the Edo procession as a warrior of Tono, and was introduced to memorial pictures in Edo. The Usui family is a relative of his. He is a famous person who appears in "The legends of Tono".
The larger dolls here are the right minister and the left minister. The official name is Zuishin. The right minister has an important duty to protect the lord and the left minister to protect the princess. Their costumes are special, and the whole body is carved to the detail of every wrinkle.
Unlike other dolls, purchased from travelers. It seemed expensive at the time.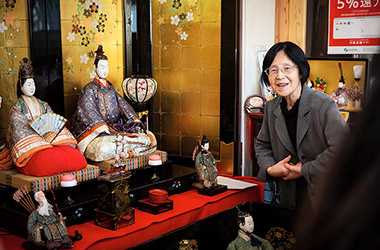 Hina dolls at Chiba Furniture Store
About 130 years ago, my husband's great grandmother bought it from a antiquarian, and it seems that it is from about 300 years ago. About 20 years ago, my husband's mother heard that there was a craftsman who can remodel the hina dolls' kimono, and I asked him to tailor it to look like the original (shape and color) as much as possible.
When my two daughters were small, it was before the reformation, so every time I put the dools on display, they used to say that the dolls were scary.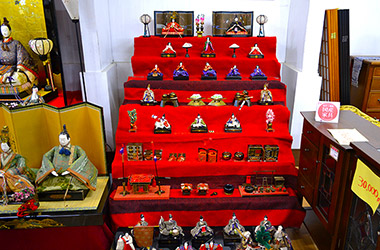 Hina doll of Takita family (Chiba Furniture Store)
The dolls are about 150 years old, and were bought about about 90 years ago from now. The owner lives in Tokyo, and will not be returning to Tono, and had said that he planned to throw it away, about 5 years ago. So I got them, saying I'd decorate them at mine.
Since they were each in a paulownia box, they were in very good condition and retained their original colors. In addition, the tools were wonderfully lacquered (gold and silver on lacquer), and this painting is still said to be a luxury item.
DATA
Event date
Late February to early March
Venue
Around JR Tono Station
Inquiry
Tono Chamber of Commerce

  


Phone:0198-62-2456
WEB
http://www.shokokai.com/tohno/