SPECIAL TOUR
WONDERFUL WINTER
DAY 1
The spiritual realm seems closer and more real here in winter, and the mystery more tangible.
The farmers of the village may be resting but the mystery and wonder of the town is still vibrant and alive - if you know where to find it!
REPORT 01
AROUND TONO STATION
遠野駅周辺
Welcome to Tono!
The first "locals" to welcome you are the Kappa, or river sprites, playing in the pond right in front of Tono Station.
After saying hello to them, pop into the tourist center to learn about what there is to do in Tono, and maybe hire a bicycle to see the town and sites at your own pace.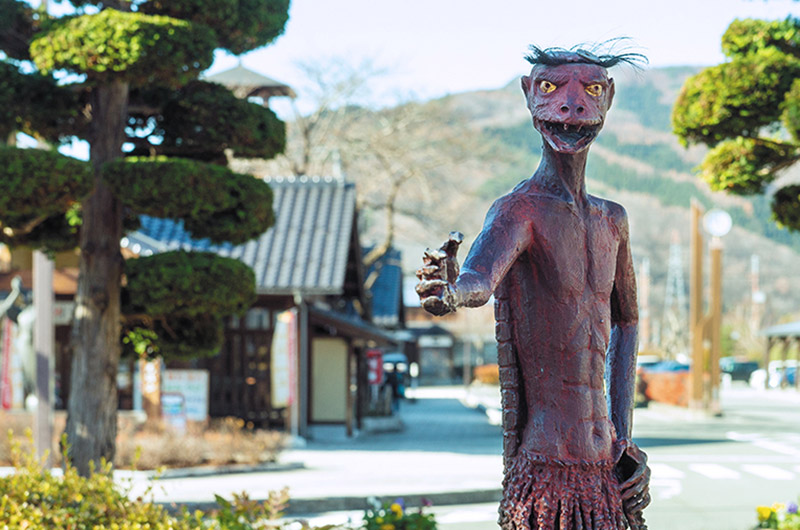 REPORT 02
NANBU-JINJA (SHRINE)
南部神社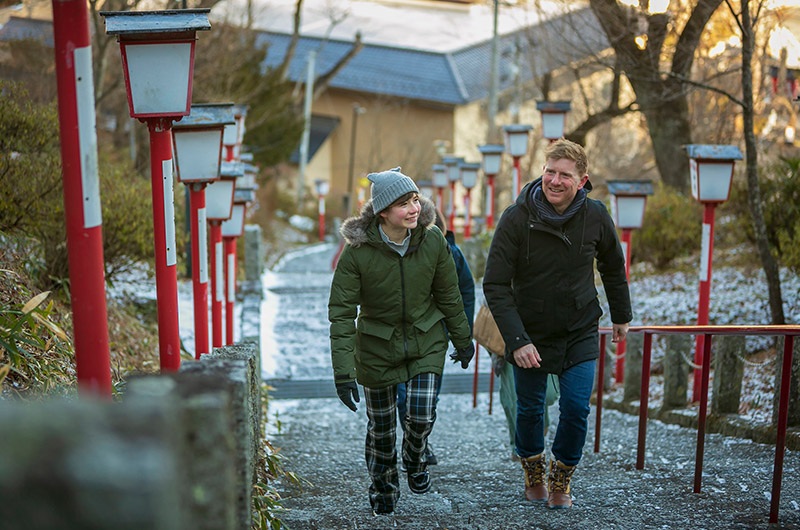 Nanbu-Jinja (Shrine) is located right behind Aeria Tono Hotel in the heart of Tono. Together with the nearby ruins of the 17th century Nabekura Park, this is the perfect place to pay respect to the gods, as well as take a morning walk around the Nabekura Park with its great views of Tono and the surrounding mountains.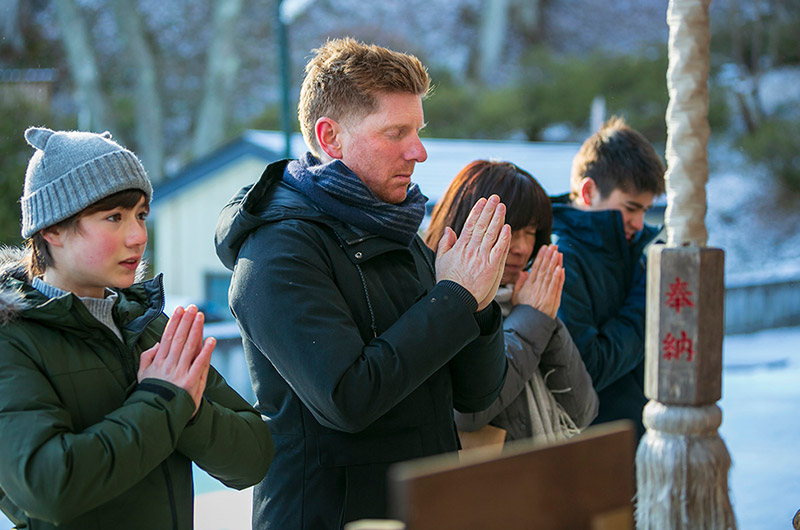 DATA
NANBU-JINJA (SHRINE)
Address: 3-6 higashidate-cyo, Tono
REPORT 03
ARAGAMI-JINJA (SHRINE)
荒神神社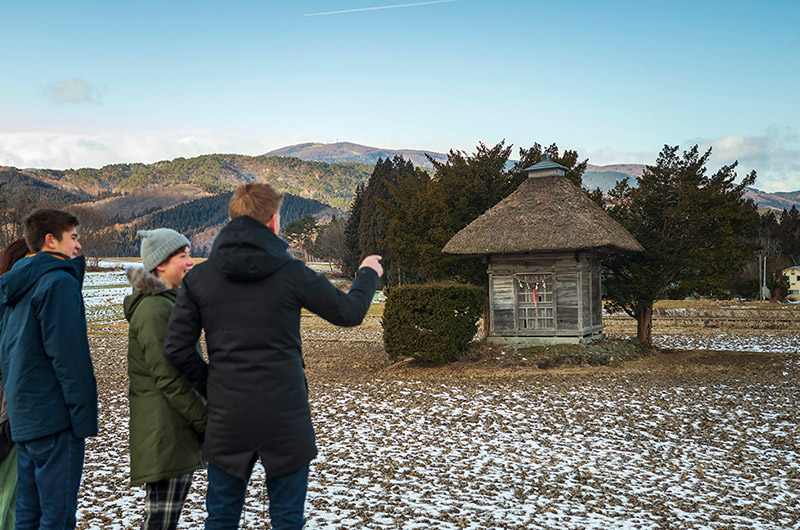 One of the many power spots in and around Tono, this is a simple thatched roof Shinto shrine in the middle of a rice field 10 minutes out of town on the way to Kamaishi on the coast.
DATA
ARAGAMI-JINJA (SHRINE)
Address: 21-8 Nakazawa, aozasa-cyo, Tono
REPORT 04
TONO FURUSATO VILLAGE
遠野ふるさと村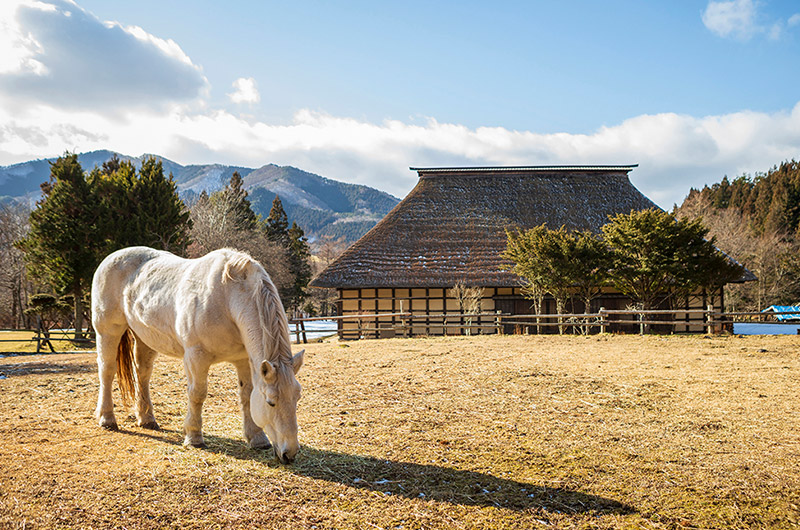 A highlight of Tono & always worth a visit. There are 6 Nanbu Magariya or traditional farmhouses from the 18th and 19th century rebuilt on this site. Experience what traditional life was like in Tono back then through the seasonal activities and spoken word stories.

Different activities are happening all year round. Come in winter for the mochitsuki, or in the warmer months for some of the best Genghis Khan Lamb BBQ you will find.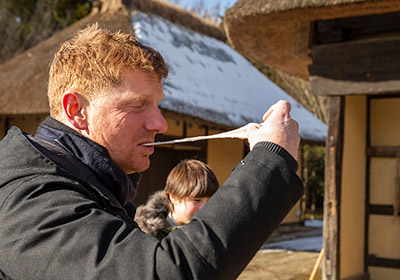 Mochitsukii is a New Year tradition in many parts of Japan, but each region has it's own unique variation.
Warm, freshly made mochi is the perfect thing to eat on winter days here in Tono.
Enjoy it outside just as you make it, or go inside to the wood fire heater kotatsu to get warm and enjoy with a variety of flavorings.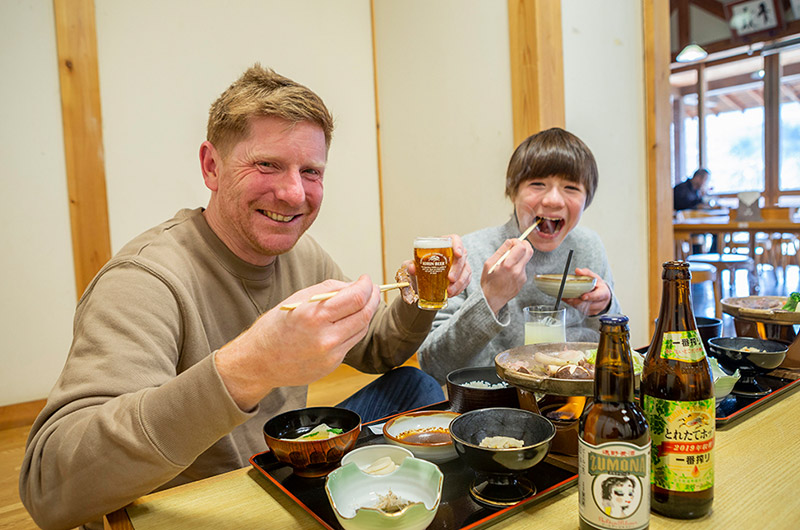 After exerting yourselves making mochi, there can be no better reward than Genghis Khan Lamb BBQ with locally grown vegetables, and beer made with local Tono hops – they go very well together!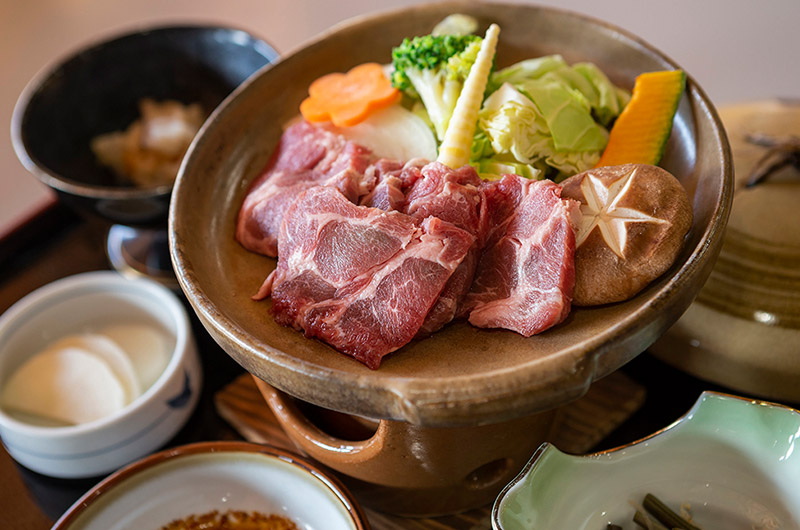 REPORT 05
TONO-HACHIMAN-GU (SHRINE)
遠野八幡宮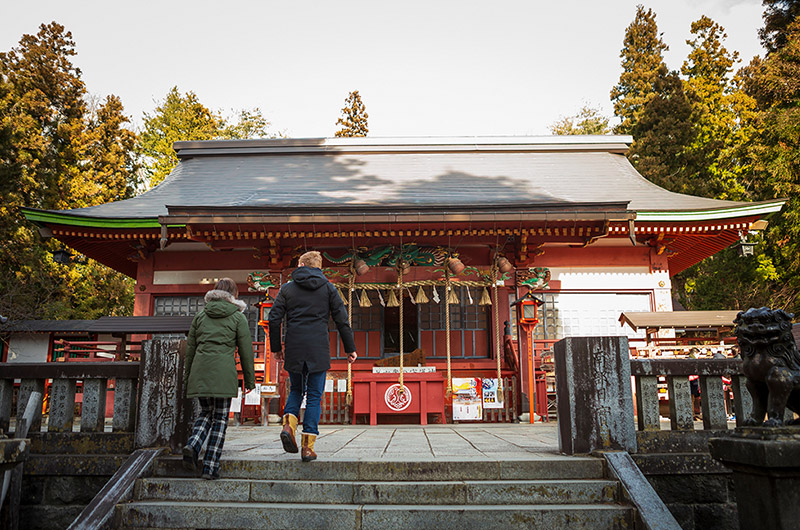 A great place in Tono to pay your respects to Hachiman, one of the Shinto gods worshiped by Samurai from ages past. Hachiman may be the god of war, but there is also a Neko shrine - to pay respects to cats and kitties -near the entrance to the larger Hachimangu Shrine.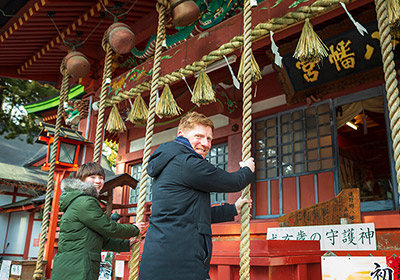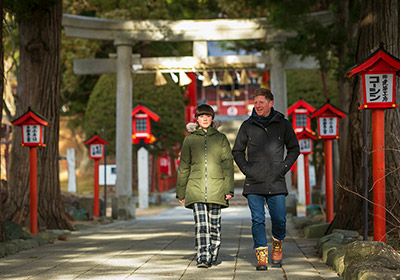 The Hachimangu festival is held every September, and is one of the few places you can see yabusame, or horseback archery here in northern Japan. The Tono Festival, with dancing and portable shrines, is held around the same time so come see both!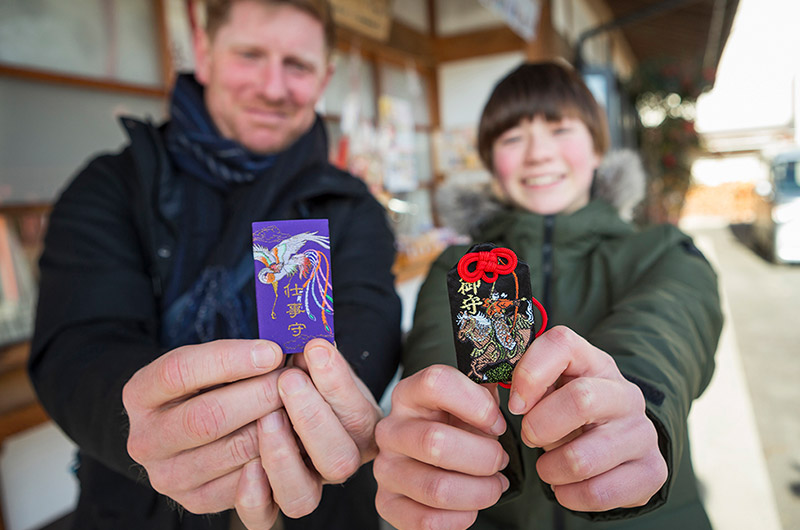 Good luck charms or Omamori, are available at most Shinto shrines.
They can protect you from ill health, help you succeed at work, or at this time of year, bring success to your kids in their entrance examinations.
REPORT 06
TONO KAZE-NO-OKA
道の駅 遠野風の丘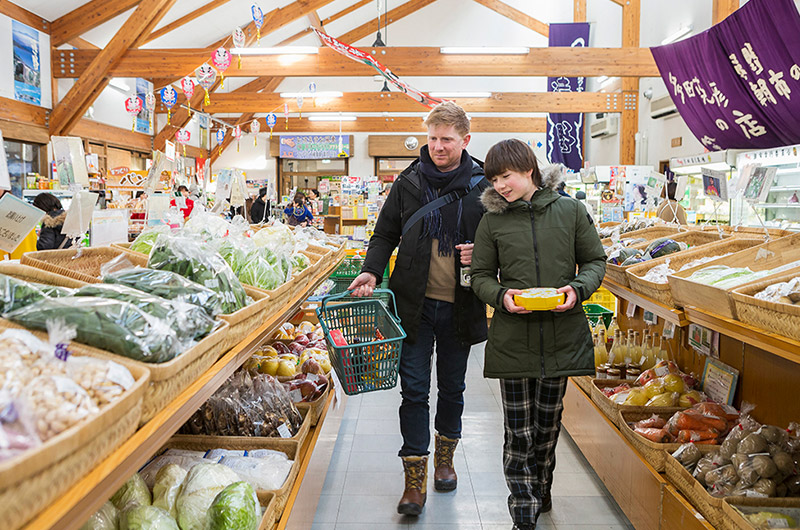 One of the best michinoeki roadside stations you'll find in Iwate, there is a wealth of local produce and handicrafts.

Eating soft serve ice-cream or gelato on the deck watching the sunset is quite special.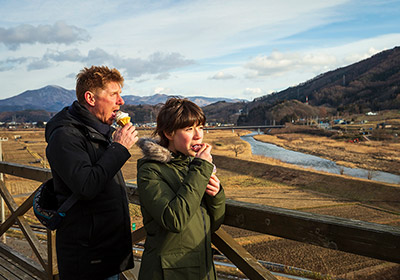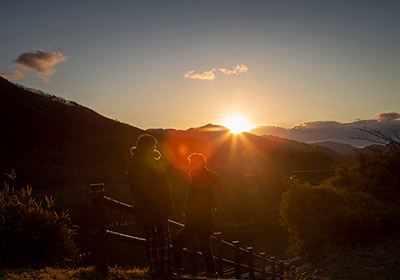 REPORT 07
MEGANE BRIDGE
めがね橋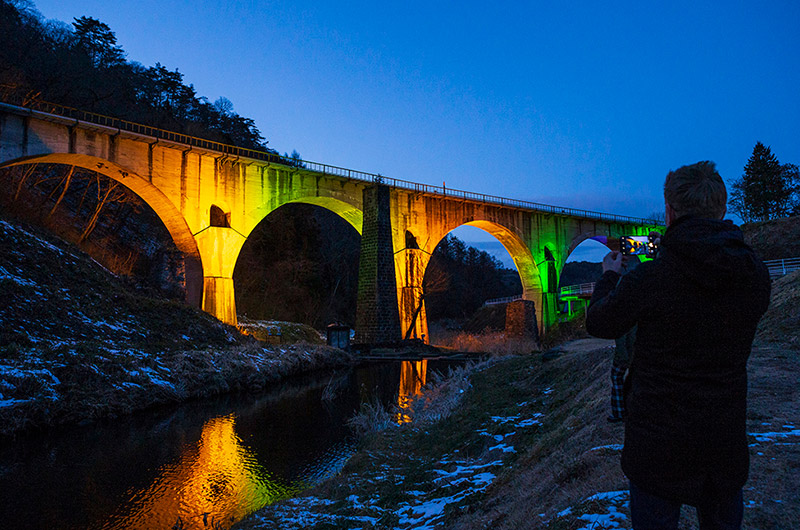 Megane Bridge is right next to the Miyamori Michinoeki on Route 283 between Kamaishi and Hanamaki, and is one of the places where the JR Kamaishi train crosses over the Miyamori River.
Megane Bridge at dusk is truly a beautiful sight and a must for your Instagram page.
DATA
MEGANE BRIDGE
Address: 30-37-1 Shimomiyamori, Miyamori-cho, Tono