SPECIAL TOUR
The first trip to Tono
Report on the experiences
Reports by international students studying in Japan
A one night two days trip to Tono
One day in February, five international students (from China, Taiwan, and France) attending universities in Tokyo, came to Tono.
It was the first time for all of them to visit Tono. They grew up in different countries and regions now living in Tokyo – how did the sceneries and cultures of Tono appear to them?
REPORT 01
Japanese "Kappa" sweets making
Tsurunoya sweets shop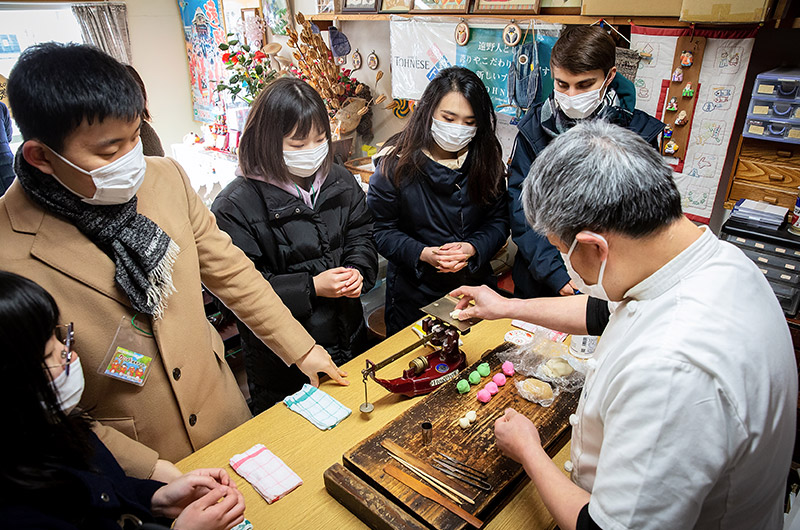 We went to downtown Tono and visited many shops and beautiful spots. One of the places was a small shop that made traditional Wagashi/Japanese sweets. The shop made sweets shaped like a creature from the Japanese folklore, called Kappa. It is a famous Japanese Yokai, or monster, and is often depicted to be a green humanoid with hands and feet with webs and a shell like a turtle on its back.

The shop master held a workshop for us, and we learned how to make unique Kappa shaped sweets! It was a wonderful experience, and we tried hard making the sweets. It was truly hard to make sweets beautifully like the sample. In the end, we took pictures of completed Kappa sweets and ate them with freshly prepared green tea. Everyone had a wonderful time!
Text by Lawrence (France)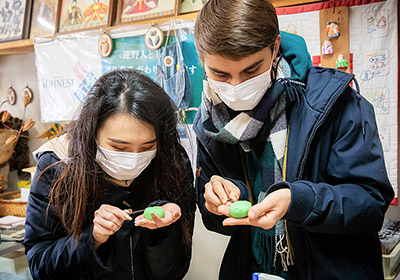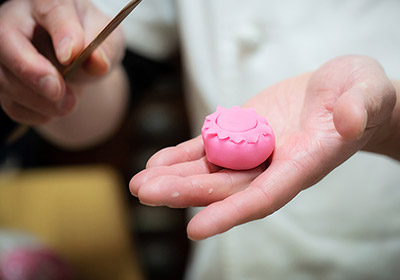 Wagashi/Japanese sweets are traditional Japanese sweets that come in many shapes and are often enjoyed together in tea ceremonies. When I participated in a culture workshop event before, I had a chance to make Wagashi, but since there was not enough time, I mainly made the easiest to make ones. However, this time, we could go to a store called "Tsurunoya," where we could make Kappa Wagashi, which was a lot of fun. Kappa Wagashi are related to the Kappa culture in Tono City. There aren't Wagashi shaped like that in other places, so this was memorable.

Also, the Wagashi teacher taught us kindly, which was really good. The hardest part was making the leaf on the Kappa head, where I had to cut each leaf one by one. This experience made me realize how pretty Wagashi needed much expertise in making them. I ate it right away after making it, and the sweetness was just right. It was delicious to eat it together with a cup of tea.
Text by: Tseng Yu Chi (Taiwan)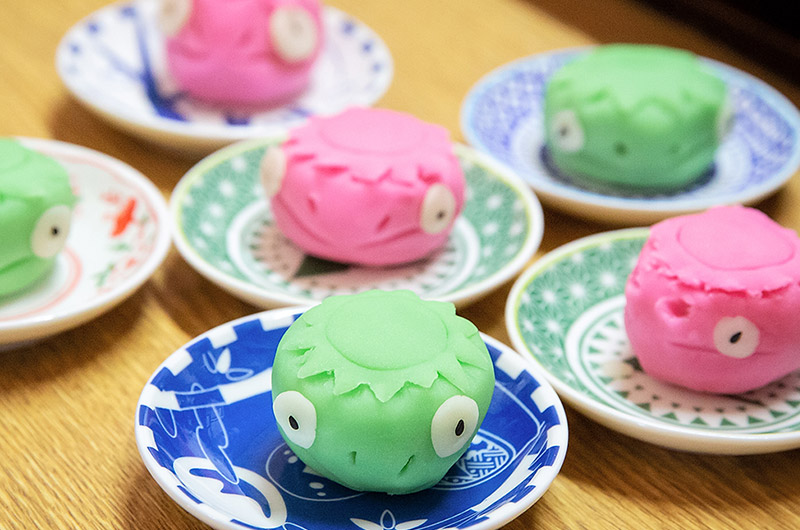 REPORT 02
Visiting temples
Zenmyo-Ji (Temple)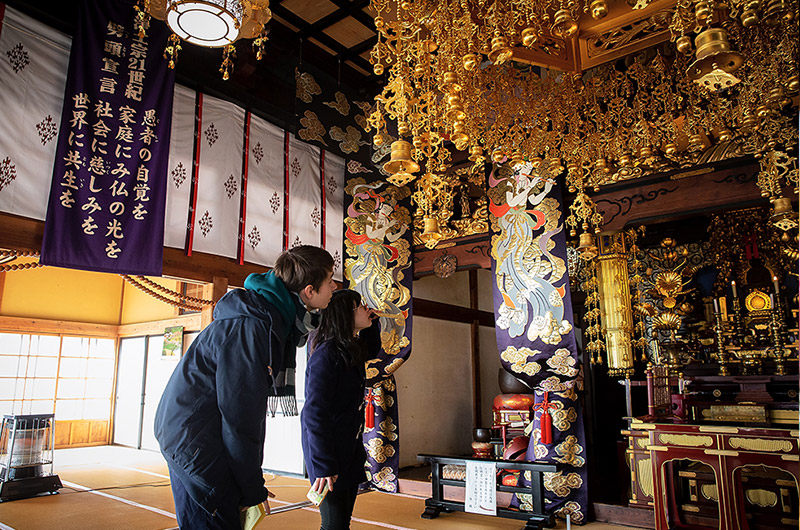 We visited Zenmyoji Temple, a Buddhist temple of the Jodo sect. Zenmyo-Ji (Temple) appeared to be an ordinary temple at first, but once you entered the main hall, I could see many paintings hanging from the beams. These paintings vividly depicted people wearing beautiful clothes and working on a variety of occupations. I wondered why these paintings were made, and our tour guide explained that these paintings were called "Kuyoe" (Memorial paintings for the dead). By drawing scenes of the deceased in their professions, the painter wished the deceased could continue their professions in the next world, and these acted as a prayer for them.

Carefully looking at these intricate paintings, I realized that these exquisite paintings were similar to a Chinese tradition, where people burn money and gold in a memorial service for the dead. Although the approach was different, respect and emotions of respect are deeply rooted in both Japanese and Chinese cultures. With this in mind, I hope that China and Japan, the two neighbors, share the same stretch of water and eternal friendship, to bring about prosperity to both countries!
Text by: Zhang Yinghan (China)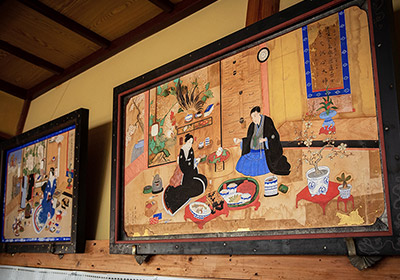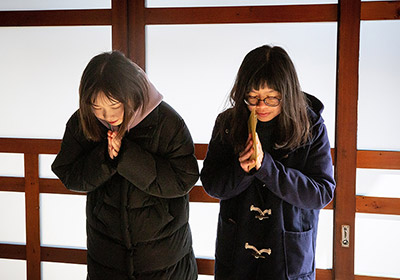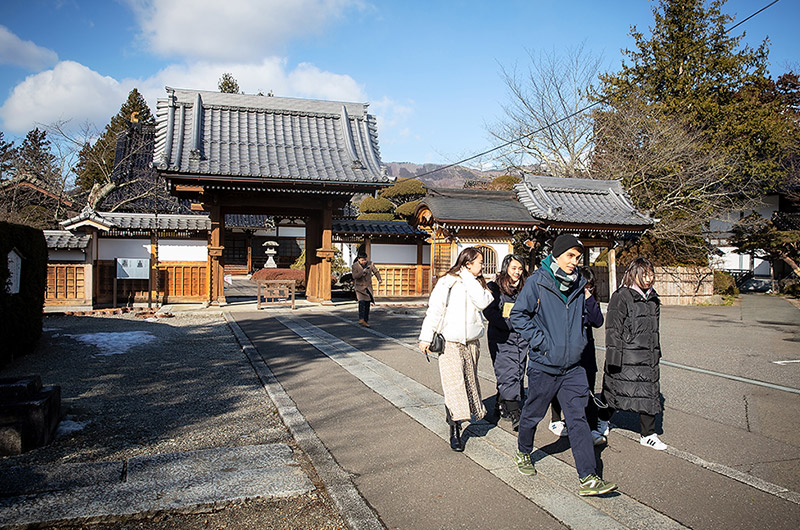 REPORT 03
First-time cosplay, wearing costumes from the old times
Kobayashi Aramono Zakka Ten (Kobayashi General Store)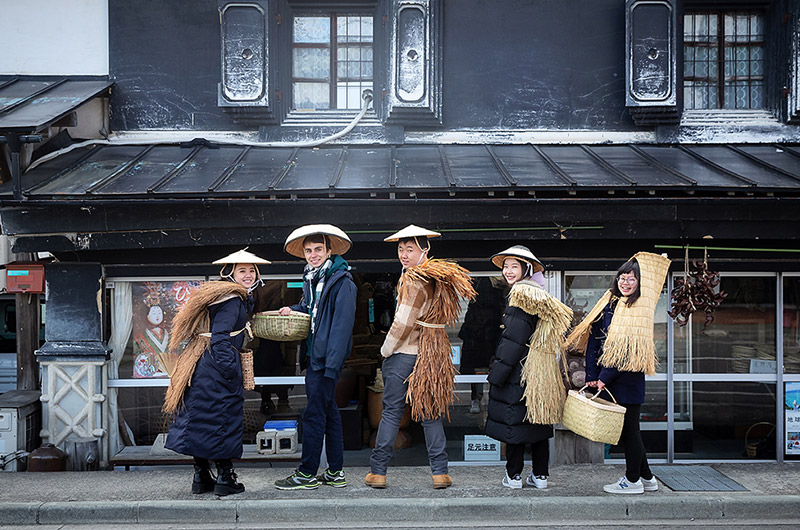 Later that day, we visited a traditional craft store with many crafts like bamboo crafts from Iwate Prefecture. The store owner was a lovely old lady, and she put small items on us so that we can experience how it was like to be a Japanese farmer in the past. These items included straw hats, back padding made of straws like a dress, and small bags/porches for carrying daily necessities.

Once we put the items on, we went outside and took pictures of ourselves in our cosplays. We posed like the winter collection of a fashion show, and laughed, too! I especially liked the triangular tent-like costume for protecting oneself from the rain and the wind. Being able to wear these traditional costumes and experiencing what it was like, was wonderful. The store people greeted us warmly and encouraged us to try something on.
Text by Lawrence (France)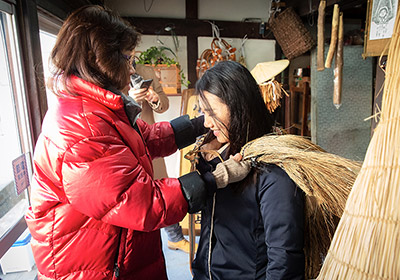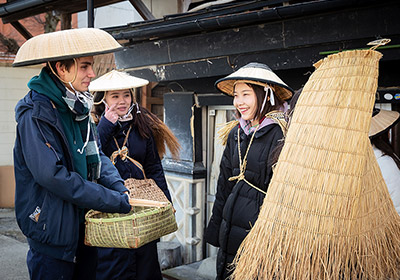 We went to a store called Kobayashi Aramono Ten, where we could try on cosplay costumes from the old times. Specifically, we tried on Mino (straw rain-cape) and Fujigasa (triangular hat). It was very convenient because we could try them on without taking off our clothes. After we put on our cosplay costumes, we could see ourselves dressed differently than usual, so everyone became excited and took pictures in many different poses. I loved this experience. Recommended!
Text by: Du Lanna (China)
REPORT 04
Eating famous confection in Tono
Matsuda Shorindo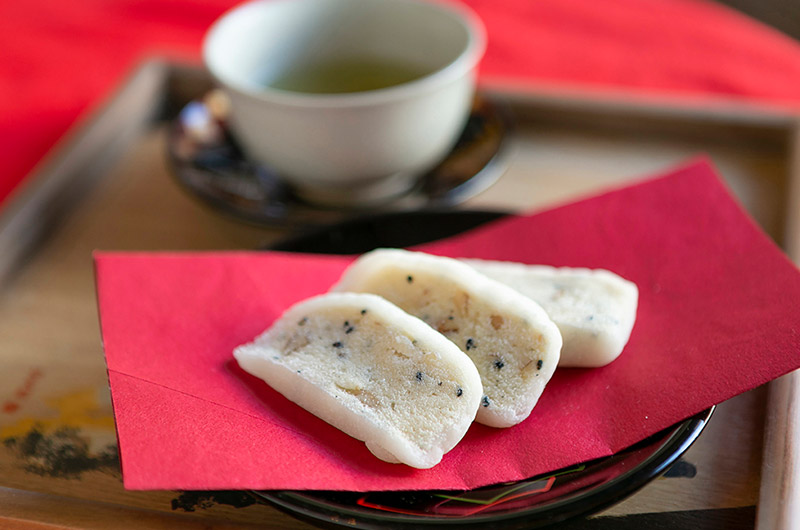 Tono City has a famous confection called "Akegarasu." We went to "Matsuda Shorindo," an original maker of Akegarasu with 100 years of history. A kind store staff wearing polished Japanese clothes gave us a tour, and the staff taught us about Akegarasu characteristics and the store. As Akegarasu is a famous confection in Tono, I saw it in many places throughout Tono City and had a chance to try them, but the Akegarasu at this store was the most delicious by far. I bought the Akegarasu from this store before we left, but I ended up eating mine right away. Then, when I saw on the internet that Shorindo sells Akegarasu online, I ended up eating Akegarasu I saved for a souvenir (lol). The Akegarasu here is recommended!
Text by: Du Lanna (China)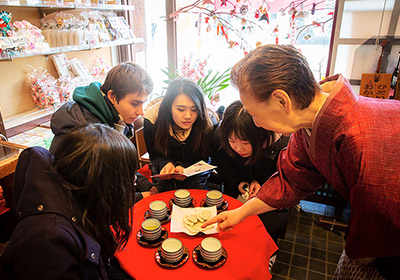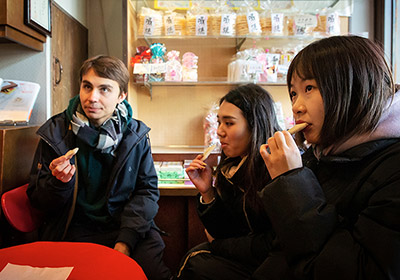 "Matsuda Shorindo" is a famous Wagashi shop in Tono City, Iwate Prefecture. Since the foundation in 1868, the store has been handed down for generations, and it is one of the most famous Wagashi stores in Tono City now. A female master wearing a kimono greeted us. She explained to us about the store history and about "Akegarasu," the most popular Wagashi that they have been selling for many years.

Akegarasu is a very delicate Wagashi and requires expert skills to make it such as how to balance and place the walnuts inside, but this was a company secret, so she didn't tell us much about it. Compared to some of the other Wagashi I tried out, Akegarasu was sweet but light, and the texture was clearly different from a rice cake. The female master also served us some hot green tea with Akegarasu. Freshly prepared green tea and Akegarasu were perfect for an afternoon tea.
Text by: Elizabeth (China)
REPORT 05
Trying out "Genghis Khan Lamb BBQ"
Genghis Khan Lamb BBQ no Anbe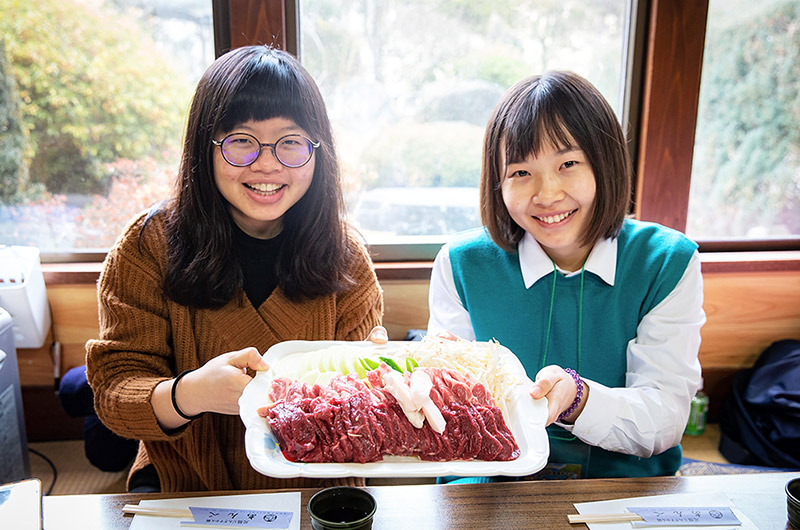 When I went to Hokkaido before, I heard that Genghis Khan (Mongolian mutton barbecue) was delicious, so I thought Genghis Khan was a specialty food in Hokkaido. I didn't know that Tono was also famous for its Genghis Khan. By the way, I was disappointed that I couldn't eat Genghis Khan Lamb BBQ when I went to Hokkaido last time, so I think it was really lucky to be able to eat at the original restaurant of Genghis Khan in Tono, "Genghis Khan no Anbe." We heard stories from the store staff and found out about the store's history.

The founder went to war in former Manchuria and had a chance to eat some mutton food there. After he came back to Japan, he could not forget how delicious mutton was, so he opened his own restaurant and developed a homemade sauce. The unique deliciousness became famous among the locals, and eventually, it became a specialty dish in Tono. This time, I had both lamb and mutton, but both didn't have the distinct sheep smell and were very soft. I had them with homemade sauce, and they were very delicious. The restaurant used a special saucepan for grilling meat, and I could feel that the restaurant was serving Genghis Khan with passion.
Text by: Tseng Yu Chi (Taiwan)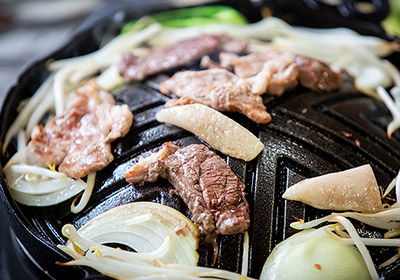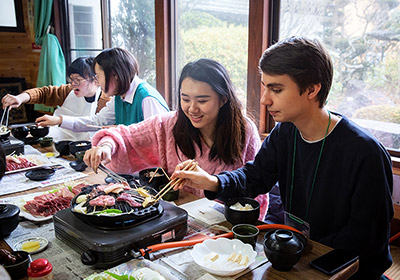 REPORT 06
Making blueberry jam
Tsukushi Farm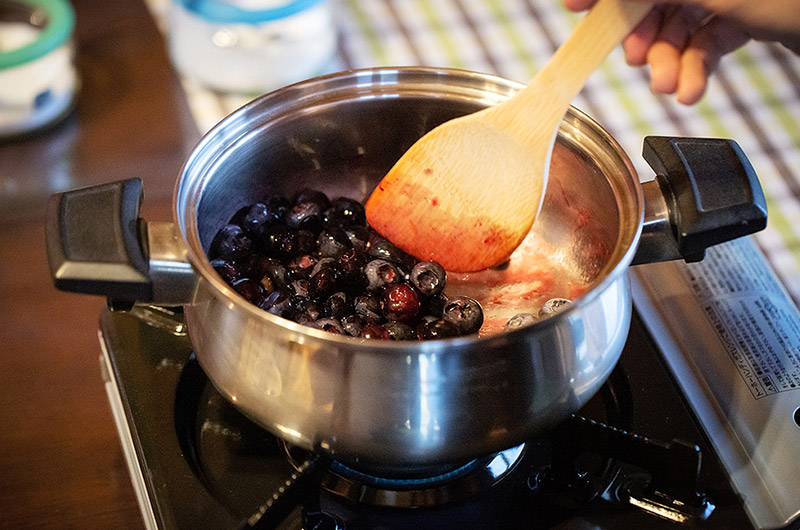 We stayed at an inn called "Tsukushi Farm." The master there was very kind and greeted us warmly. I felt that I could spend time there comfortably like in my own house. Originally, we planned on taking a walk on the blueberry farm, but because the weather was bad, we made blueberry jam back at the inn. The blueberries here were large and delicious, so I had to eat some before starting to make the jam. By the way, it was easier to make a jam than I thought. I was surprised.

First, you heat frozen blueberries in a pot, then stir well once it gets liquidy. Finally, you add sugar as you like, and it's complete. I'm not a big fan of ordinary blueberry jam because they are too sweet, but we could adjust the sweetness of the jam we made. I could taste the original sweetness and sourness of blueberries, and we put no preservatives, so it was delicious and healthy. It was the best. They said if you don't open the lid, you can store it for a year. I think I will have it for my breakfast from now on.
Text by: Tseng Yu Chi (Taiwan)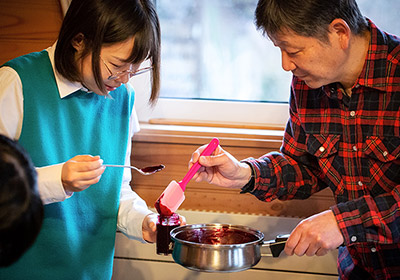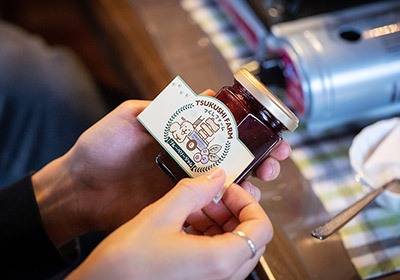 REPORT 06
Private lodging experience
Tsukushi Farm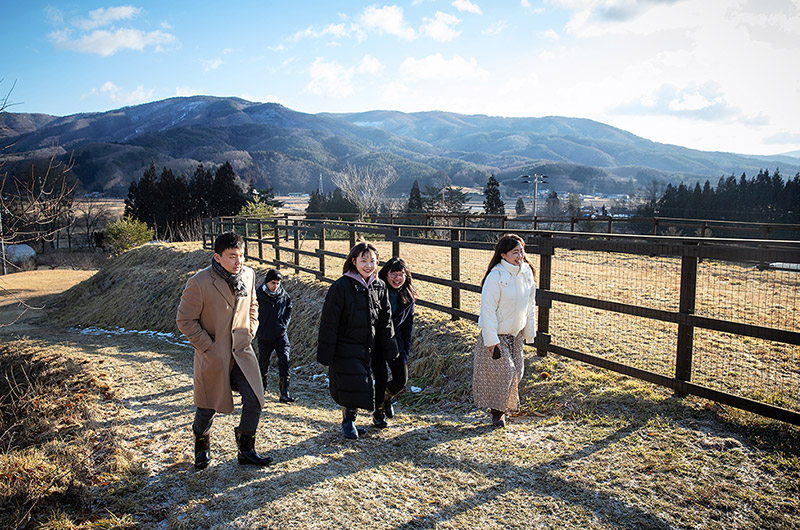 Before dinner, we got to our first place for the night, "Tsukushi Farm." The owners were a wonderful couple and had two dogs. (You could take a walk with the dogs during the day.") The building had two floors, each with a large bedroom where you could see the backyard from. The washroom, bathroom, kitchen, and dining room were all on the first floor. The dining room had a French-style window facing the backyard where you could see beautiful natural scenery on a sunny day.

We tried local Nabe (Japanese hot pot) and made Ehomaki (sushi roll eaten during Setsubun) for dinner. The Ehomaki I made was really delicious. I recommend it to people who have never made sushi before. After making them, the owner taught us facing which direction was supposed to be lucky that year, so we ate them facing that direction. The soup of the hot pot was also very delicious and went well with fresh vegetables. Our dessert was vanilla ice cream with blueberries on top, which was especially my favorite during the dinner. After dinner, we explored outside and observed the stars a little.

We visited there around the vernal equinox when Japan celebrates it with a unique tradition. The owner had prepared some beans for us, and they threw the beans praying that misfortune goes away with the beans. Finally, we ate the same number of beans as our age. This was the ritual to bring luck.
Text by: Elizabeth (China)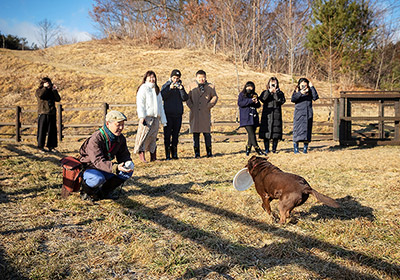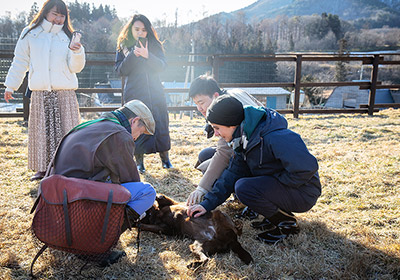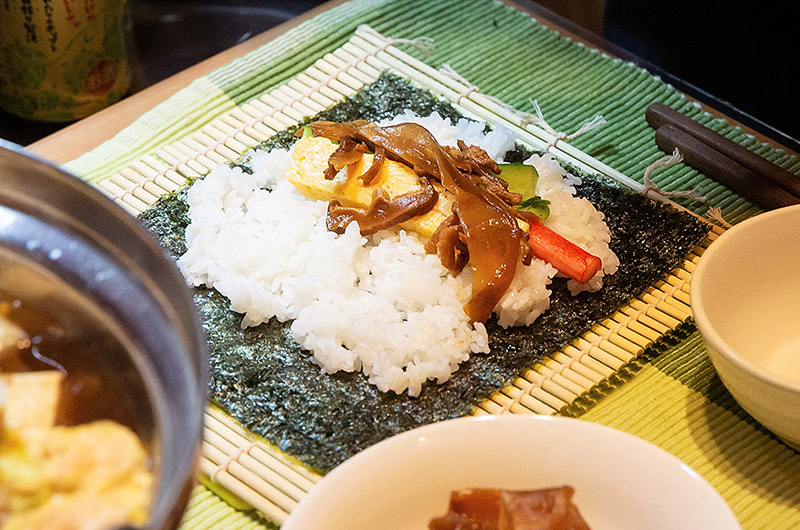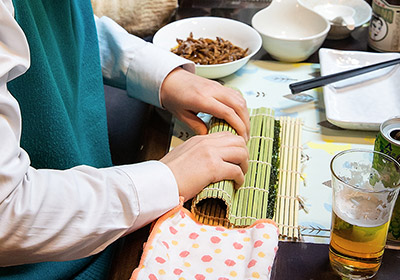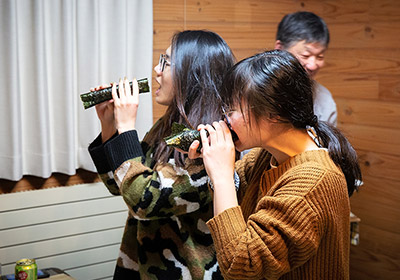 REPORT 06
Meganebashi Bridge illuminations
Miyamori Rest Area/Meganebashi Bridge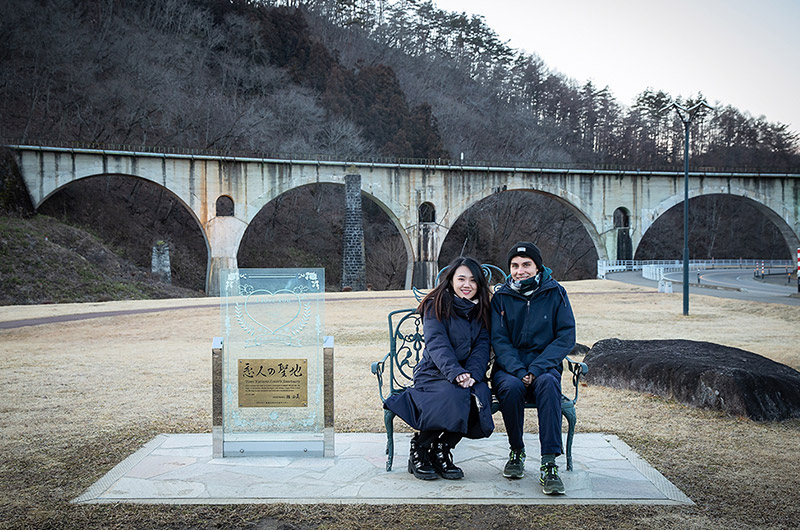 "Meganebashi Bridge" was the last place we visited on our trip. Kenji Miyazawa, a famous Japanese fairy tale writer, and a poet, was born here in Iwate Prefecture. This location was the motif for his famous work, "Night on the Galactic Railroad." Because of that, Meganebashi bridge is now a tourist destination. "Miyamori Rest Area," which connects the inland and the coastal area of Iwate Prefecture, was also nearby. Inside the building, there was a market selling local food, washrooms that were open 24 hours a day every day, and free Wi-Fi. When we left the building, we could see the bridge right away.

As the bridge had rainbow illuminations, I would recommend visiting here at night. When we went, it was not during the time that a steam locomotive was running, so we could not go on the steam locomotive like in the fairy tale, but we could see Kamaishi Line trains going back and forth on the bridge, illuminated in rainbow light.
Text by: Elizabeth (China)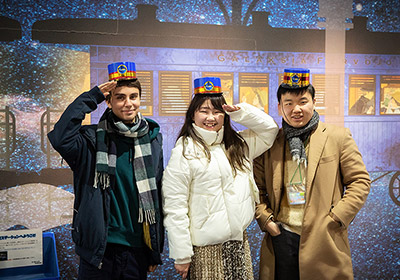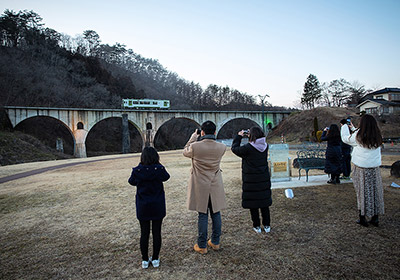 Meganebashi Bridge (Miyamorigawa Kyoryo) is a famous bridge in Tono City. The name Meganebashi (spectacles bridge) is said to have derived from the shadow of the bridge being reflected on the water making the bridge and the reflection appear like a pair of spectacles. JR Kamaishi Line that runs on the bridge used to be "Iwate Light Railway," which was a model for "Night on the Galactic Railroad" by a famous fairy tale writer/poet, Kenji Miyazawa. At night, the bridge is illuminated and shines together with the starry night sky. It is very beautiful and popular.

I first found out about the "Night on the Galactic Railroad" and Meganebashi bridge in a drama and thought I wanted to visit here one day. I was really happy to get the chance to visit here. In the afternoon, we visited Meganebashi bridge and saw the steam locomotive driving across the bridge. We then rested a little at a place called Miyamori Rest Area, and when it got dark, we finally got to see the illuminated Meganebashi bridge. Seeing the actual Meganebashi bridge that I always watched only on videos and pictures was like a dream.
Text by: Du Lanna (China)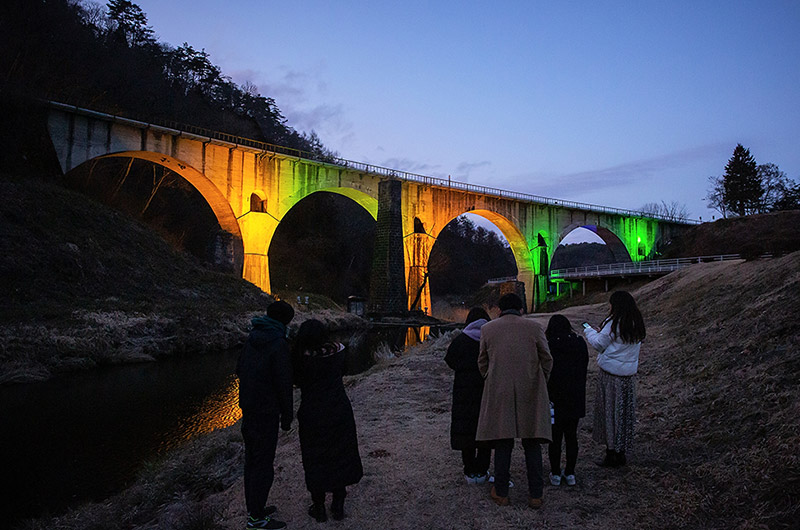 Coverage cooperation