SPECIAL TOUR
ENJOY LOCAL BARS AT
"CRAFT BEER TOWN"
Beer's
spiritual heartland
So many of Japan's hops are grown in Tono, so I think it's great getting the beer at the source.
The fresh local hops and clean water make for great beers, but also maybe it's because the smaller size brewers, like Zumona and the Tono Brewing Company, are small enough to still be adventurous?

Japanese major beer labels make some of the best regular beers in the world, and a lot of them use Tono hops.
It only makes sense that Tono has some of the best microbreweries in Japan.
REPORT
REPORT 01
TONO BREWING TAPROOM
遠野醸造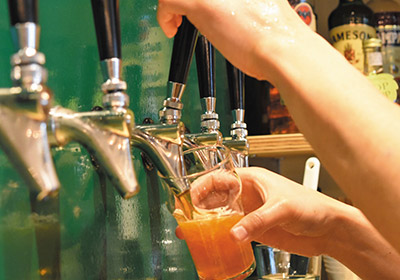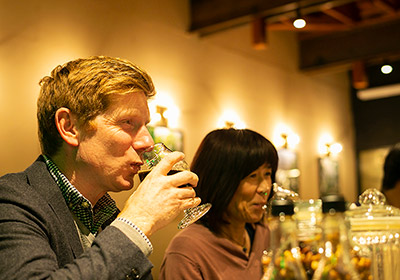 A great restaurant bar for young locals to try some fantastic local brews with great food.
The beer is brewed on site - you can see the tanks at the back of the store - so it is always fresh, and the combination of the local hops as well as honey, wasabi and other local ingredients makes the beers unique. Some are only available here and this attracts a number of "beer tourists" to the bar.
The Shakespeare-inspired Five Wits is a particularly refreshing and hoppy IPA, and the whiskey coffee stout – made with coffee beans soaked in whiskey from Tono's sister city of Chattanooga, Tennessee – matches well with the hand-made cheesecake. The young owner and experienced beer meister combine well to create a vibrant place to come to relax and learn about their excellent beers.
It takes a bit of courage to walk along the "Road of Parent's Sorrow". It's right next to the station, but from the neon signs and variety of bars, you can tell that in days gone by, the name was maybe earned – not just given.
These days opening that door to the bar for the first time still takes a bit more courage, but once you do, you'll find nothing but friendly and welcoming owners and staff, and local customers just aching to talk to newcomers.
Take the dive – it just might be worth it.

This is the place to sing with friends, and also mingle with the locals. You can also get yakiniku from downstairs sent up when you get hungry.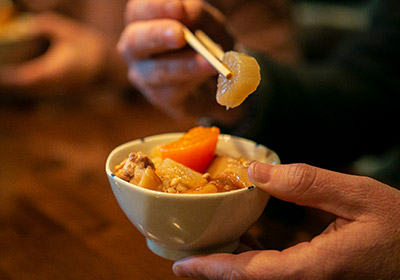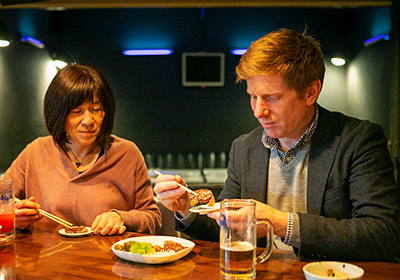 There is a cover charge, or "charm" as they call it here, of 500 yen.
For this you will be given an appetizer when you take a seat.
Today's was warming and healthy boiled vegetables.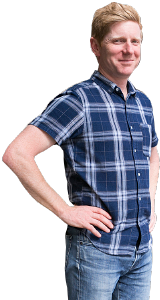 Table Charge is a set fee for coming into the restaurant or bar.
Sometimes charm, otoshi or tsukidashi, a lot of bars have this, and for this you'll usually be presented with some nuts or a small appetizer when you arrive.
Some places don't have a table charge, so check when you enter to be sure.
DATA
ROMANCE
Address: 7-12 Shintoku-cho, Tono
A great place to end the night, or just to keep on going. The Mama-san owner is a great singer and mixes up some great cocktails- if occasionally only by accident. No charge here, but lots of charm.
Mama-san is a fantastic singer. Make a request or sing a duet with her if you think you can match her.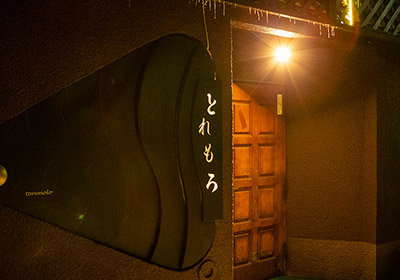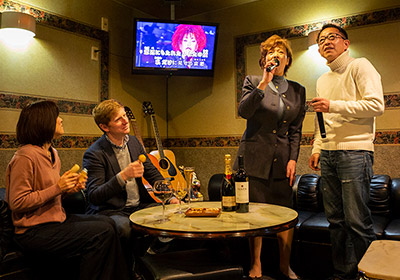 DATA
TOREMORO
Address: 7 Shinkoku-cho, Tono