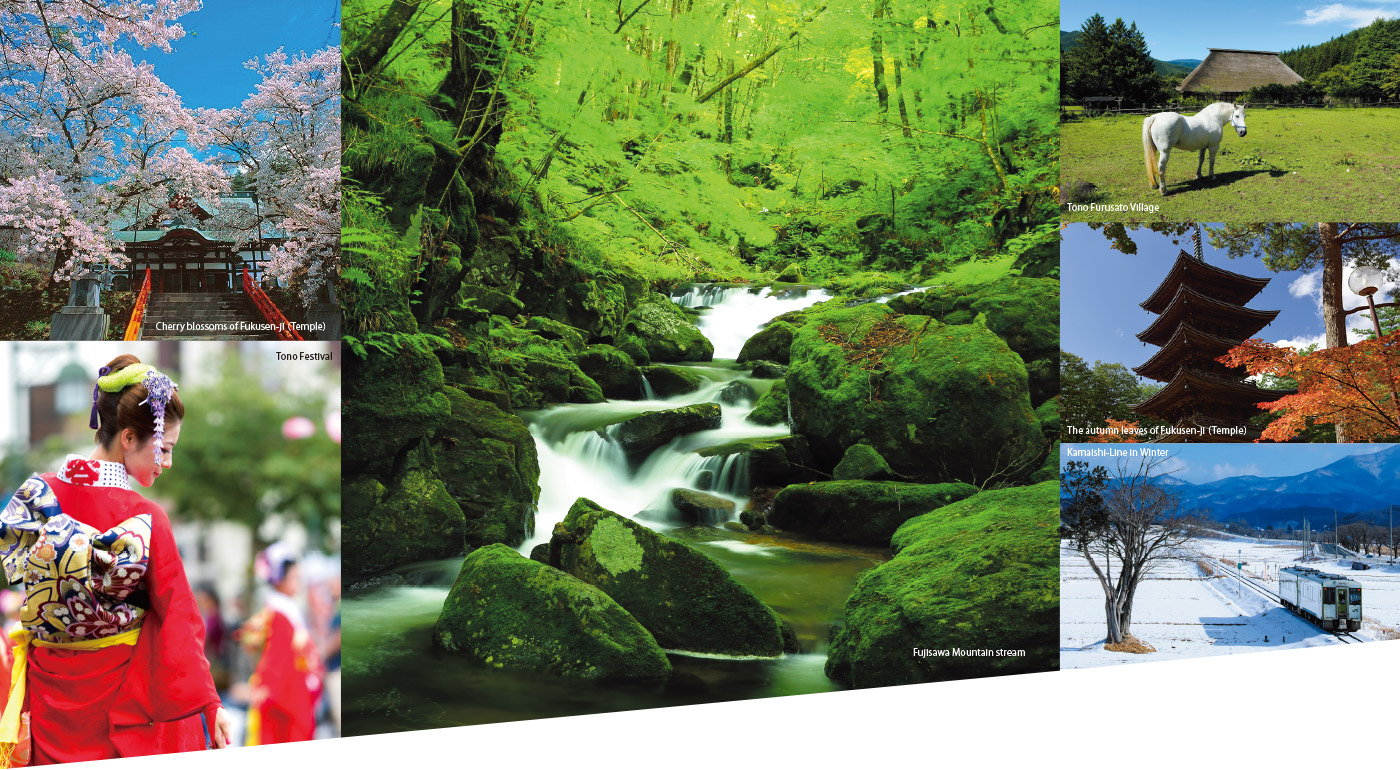 About Tono
Tono, a city located in Iwate Prefecture, is a place that brings Japanese folklore to life. It is home to the popular tourist destination Furusato Village, a preserved folk village that recreates Japan's old lifestyle and the importance it placed on nature and faith.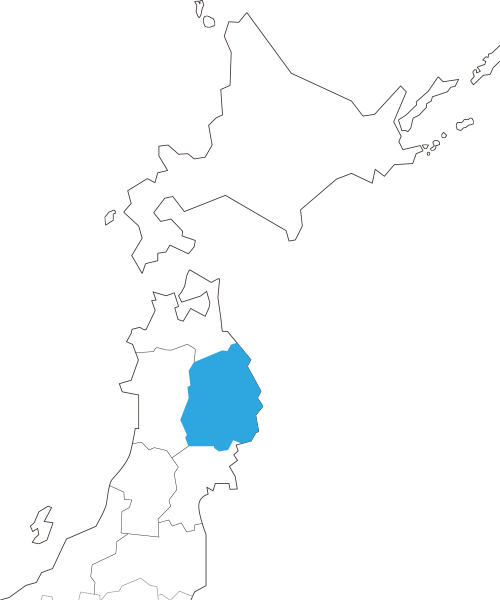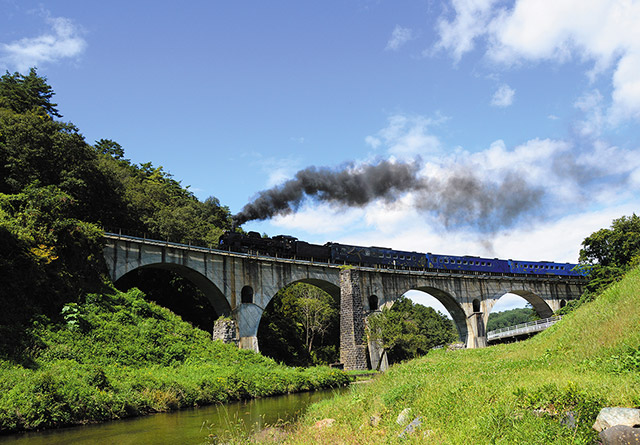 Climate of Tono
Located in the north of Japan, the temperature difference between the winters and summers is extreme. Tono has distinctive 4 seasons. In the coldest season, the temperature can fall to -10 °C or below. Snow starts to fall in mid November and the city remains covered in snow from December through March. The cherry blossoms start to bloom in mid April. The leaves begin to change color in October.
Enjoy nature in each of the dicticntive four seasons in Tono. Remember to prepare for the cold weather from fall to spring!
Take a look at the statistics to plan your stay in Tono for great experience.


January to March
A full-fledged winter climate with temperatures below -10 ° C. Hats, mufflers and gloves are required. For shoes, we recommend warm and non-slip snow boots.
Average Temperature
January: -1.6 ℃
February: -1.0 ℃
March: 3.7 ℃
Average Snowfall
January: 13.2 cm
February: 9.9 cm
March: 2.1 cm
April
Spring begins when snow start to melt. But it is still very cold in Tono. It is particularly cold at night and in the morning. A warm jacket is recommended!
Average Temperature
9.9 ℃
Average Snowfall
0 cm
October
The season when the leaves change their color. The temperature during the day is wamr but it drops at night and in the morning. Make sure to bring a warm jacket.
Average Temperature
11.5 ℃
Average Snowfall
0 cm
November to December
Snow starts to fall and there are more and more cold days. A warm jacket and a scarf are a must. The streets are frozen and slippery. Non-slip shoes are recommended.
Average Temperature
November: 4.9 ℃
December: -1.4 ℃
Average Snowfall
November: 0.20 cm
December: 6.6 cm
Average Temperature
January: -1.6 ℃
February: -1.0 ℃
March: 3.7 ℃
Average Snowfall
January: 13.2 cm
February: 9.9 cm
March: 2.1 cm
Average Temperature
9.9 ℃
Average Snowfall
0 cm
Average Temperature
11.5 ℃
Average Snowfall
0 cm
Average Temperature
November: 4.9 ℃
December: -1.4 ℃
Average Snowfall
November: 0.20 cm
December: 6.6 cm
Tono Cuisine
Genghis Khan
"Genghis Khan" is lam BBQ. Japanese "Yakiniku (BBQ)" typically uses beef but in Tono, Yakiniku means Genghis Khan. You put lamb meat and various vegetables on a helmet shaped, Genghis Khan iron grill, dip them n sauce to eat. There are several Genghis Khan restaurants in the city to choose from.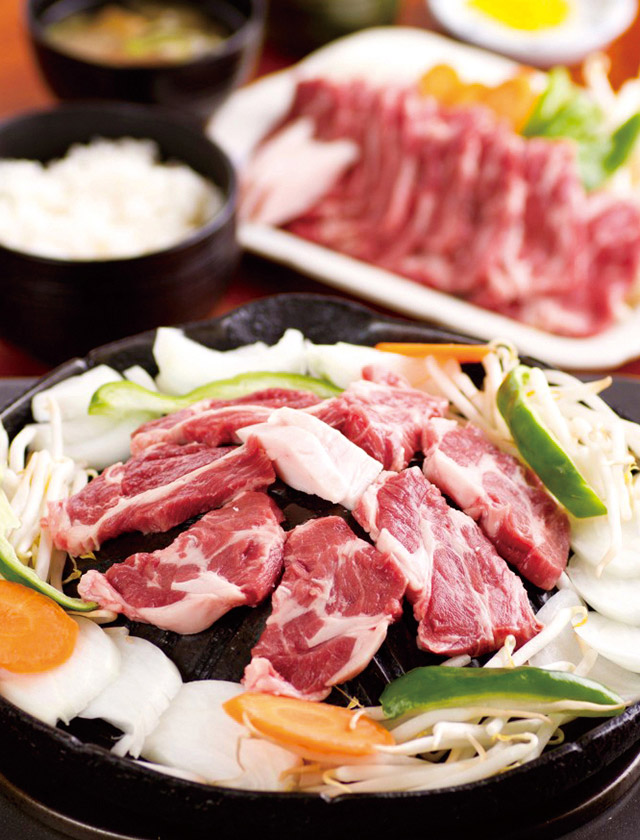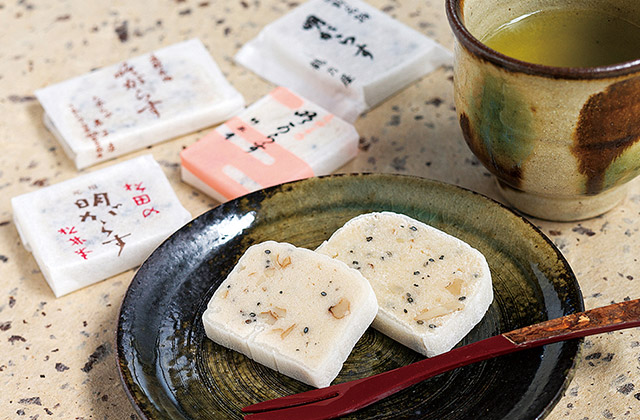 Akegarasu
Akegarasu is Tono's traditional sweet made from flour, black sesame seeds, and walnuts. It's a simple sweet but addictive. The name "Akegarasu" means crows flying in the morning sky, seen on each slice. This is Tono's original and famous sweet and there are a few convectionary shops make it in nTono. Each shop's Akegarasu tastes slightly different. It would be fun to compare them.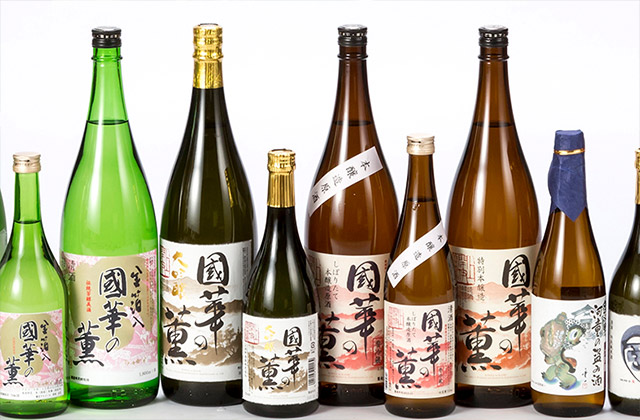 Sake
Tono is home to Kamihei Shuzo, a sake brewery that has handed down sake history and brewing techniques for over 200 years. Produced using running water from the base of Mount Rokkoushi, the sake here has an elegant taste that is made possible by Tono's clear air and beautiful nature. You can easily find Tono's refreshing sake in many restaurants within the city, so please give it a try.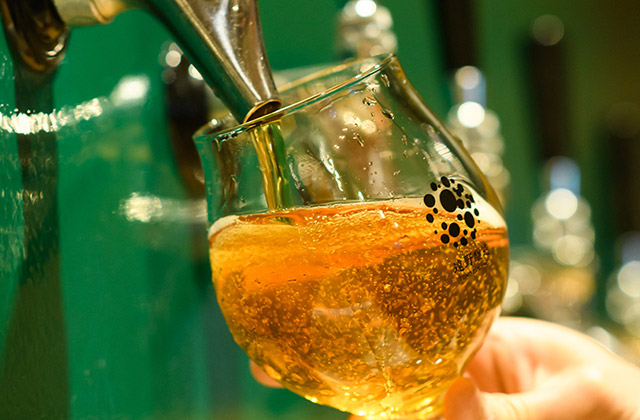 Beer
Tono is famous for growing the raw material used in beer called "hop". The hops grown in Tono are used by major beer companies, and also in popular local craft beer. Zumona beer is sold in a number of souvenir shops and restaurants. You can also taste freshly brewed beer on-site at the Tono Brewing Taproom.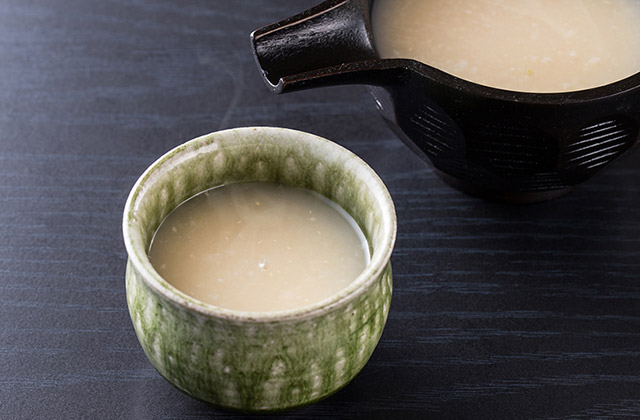 Doburoku
Doburoku is a kind of unfiltered sake. Referred to as a precursor to modern sake, the rice used to brew it is left unfiltered giving the drink a cloudy look, resulting in a simple and nostalgic taste. Tono is one of the few regions in Japan legally allowed to brew doburoku, so many lodges and tourist facilities have their own special recipes.
Wasabi
Wasabi, essential to Japanese cuisine, can only be grown in uncontaminated clean running water. Tono's Miyamori district has been cultivating wasabi for over 100 years and boasts the largest wasabi production in Tohoku region. Grown n the spring water below 9.5 °C year around with special care, Tono made wasabi gives special flavor.
Kuretsubokabu
For the last 400 years or so the Kuretsubo district of Tono has been producing "Kuretsubokabu", which are famous all across Japan. Known for their very salty taste, Kuretsubo turnips received high praise as a spice for foods such as soba and sashimi in the famous Japanese manga "Oishinbo". You can find soba with Kuretsubo turnips offered as a spice in many restaurants in Tono. The refreshing salty taste gives it a different feel from other spices such as wasabi and chili peppers, so please give it a try!

Japanese Lifestyle and Manners
Japanese Rooms

Japanese-style guest rooms are floored with tatami straw matting. Staying in a matted room at a ryokan is highly recommended if you have an interested in sampling the traditional Japanese lifestyle. A matted room serves multiple purposes as a sitting room, dining room and bedroom. One precaution for using tatami rooms is removing your slippers before you step on the matting.Shoes and slippers are never worn inside tatami rooms.

Futon Bedding
Tatami rooms do not have beds. Instead, futons (thick mattresses), which are stored in closets during the daytime, are set down and rolled out by the ryokan employee. You don't have to worry about cleaning up the futon the next morning. The maid will put it back in the closet for you.
Japanese-style Toilet
A Japanese-style toilet has a sanitary advantage because your skin doesn't touch the surface of the toilet. most hotels and ryokans are now equipped with the more familiar Western-style toilet.
Taking a Bath
The Japanese people are fond of bathing in piping hot water. Large ryokans and hot spring resorts have big communal baths for men and women. Even though guests may have private baths in their rooms,they tend to use the communal baths to enjoy bathing and chatting with other guests.

Bathing Etiquette


*First, rinse your whole body with some hot water before getting in the bathtub. Please remember that the hot water is used by other guests, so do not put your hand towel in the bath water.
*Soak in the hot water as long as you like for warmth and relaxation.
*Scrub with soap outside the bath, then rinse off all soapsuds before reentering the bath.
*Enjoy another good soak in the hot water.
*After bathing, dry off with a hand towel or other towel provided.
Dining
When you stay in a ryokan (inn) that provides two meals, depending on the inn you choose to stay with, you may have the choice of dining either in your room (room service) or in the general dining room. Inns tend to only have preset menus available, leaving virtually no room to choose what you would like to eat.However,some inns may comply with special requests if you order well in advance for religious or vegetarian reasons. In general, dinners at inns feature Japanese dishes based on local specialties, or dishes made with local seasonal produce. It's a great opportunity for guests to savor a full-course Japanese meal.